Antique Indonesian Art And Tribal Artifacts
INDO515: Nias War Shield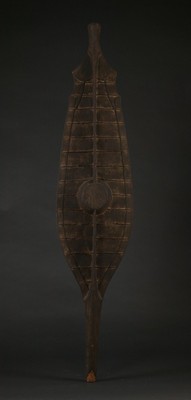 Click on the picture for large detail photos
Classical Nias shield with dark smokey patina. Carved from a single piece of wood with multiple rattan bands for extra protection from being split in battle. The patina is smokey and dark from age, use and storage. There are multiple rattan bands with most of them being intact. There is also some abrasion to the wood on the back near the handle.
Collected by Bruce Lawes in the early 1970s.
50 1/2" Overall - 11" Wide. Early 20th century, Nias, Indonesia.
---
$3000.00
---
Further ordering information and payment options
Top