Antique Oceanic Art And Tribal Artifacts
OC433: Small Asmat Shield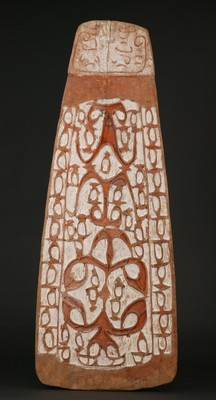 Click on the picture for large detail photos
A small Area B Asmat shield. This well carved shield is thin with very intricate details and natural pigment paint. There is a crack on the top that has a native restoration binding. Unusually small but high quality for an Area B shield.
Collected by Bruce Lawes and sold by him in 1976.
47" Tall by 18" Wide. Circa 1940s or 1950s, New Guinea.
---
$4500.00
---
Further ordering information and payment options
Top