Antique African Swords And Weapons
AF481: Mangbetu Sword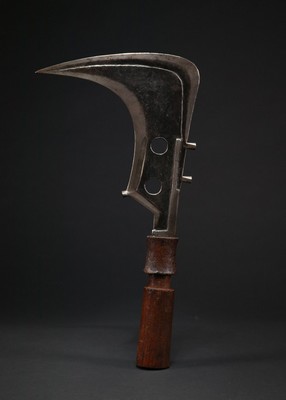 Click on the picture for large detail photos
Fine quality Mangbetu sword. Very well forged blade with sharp edge on both the concave and convex sides, and thick base bare with two lugs sticking out. This piece is very clean as it came from a European collection where it is common practice to heavily clean African swords. It also may have been collected quite early and not used in situ very long. This piece fits into a type that was know to be sold to western visitors around 1915.
Previously in a European collection
15" Tall with blade that is 8" Wide and 8 1/2" tall. Early 20th century D. R. Congo, Africa.
---
---
Further ordering information and payment options
Top