Antique African Art And Tribal Artifacts
AF513: Azande War Shield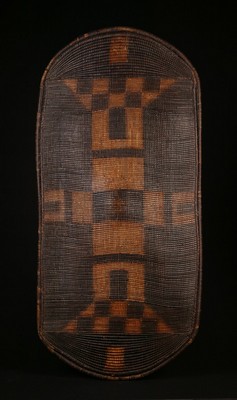 Click on the picture for large detail photos
19th century large Azande war shield for the high ranking warrior. This finely woven wicker shield is in excellent condition with a good patina from age and use. There is a small loss of woven rattan at the top and bottom edge as expected for a shield of this age that was used in warfare. The original large wood handle is intact including the wicker stitching. The Azande tribe had three levels of warriors all with different types of shields with this type being the highest level called the Gbilija.
Previously in the collection of Wolf-Dieter Miersch, Germany.
49" Tall by 23" Wide - Handle 17" x 11 1/2" . 19th century, Zaire, Africa.
---
---
Further ordering information and payment options
Top